WHAUP Celebrates First Trading Day Expanding Utilities & Power - Business for Eastern Economic Corridor Investment
---
Bangkok, 10 April 2017 - WHA Utilities and Power PLC. (WHAUP) is holding its first day trading on the Stock Exchange of Thailand, highlighting its strong basic factors to expand its integrated utilities and power business in Thailand and overseas. The company also plans on investment in the Eastern Economic Corridor (EEC) area utilizing its existing investment in the Eastern Seaboard of Thailand, which is the target industrial promotion area of the country; and is confident that it will benefit from increasing demand for utilities and power from investors in industrial estates.
Dr. Somyos Anantaprayoon, Chairman of the Board of Directors of WHA Corporation PCL. and WHA Utilities and Power PLC said, "First Trading Day today is the key milestone and another step forward of WHAUP. We believe in the bright future and potential of utilities and power business, benefited from more investment of leading industries in Thailand and overseas in line with economic growth."
Ms. Jareeporn Jarukornsakul, Group Chief Executive Officer, WHA Corporation PLC. (WHA Group) said, "WHAUP is one of the four key business hubs of WHA Group, the parent company that stands out for its sustainable growth potential due to increasing demand of utilities and power from investors inside and outside industrial estates."
Currently, WHAUP has invested in the eastern seaboard of Thailand, the target area of Eastern Economic Corridor which should generate more revenue and growth to WHAUP from future investment potential. Therefore, from all positive factors, WHAUP's trading in the Stock Exchange of Thailand under "Energy and Utilities" sector should well attract investors in the long term.
"Utilities and power is among top businesses that WHA Group considered its continuous growth potential, especially in industrial areas where utilities and power is the key factor of business operations. Therefore, increasing demand for utilities and power has proved to be WHAUP's future growth potential very well." Ms. Jareeporn added
Mr. Wisate Chungwatana, Chief Executive Officer, WHA Utilities and Power PLC. (WHAUP) said, "WHAUP is confident that today's first day trading will be well received by investors considering the company's outstanding and well-established utilities business and large customer base in the Eastern Economic Corridor where there is more investment potential than other regions."
Fund raised from the initial public offering will be used for several purposes, including utilities and power project investment for business expansion and loan payment to financial institute, which will reduce the Company's current debt to equity ratio at 1.5 times.
Six SPP plants that WHAUP has partnership in, accounting for 190 megawatts (equity share), are under construction and require another 1,858 million Baht investment. In 2017, four out of six plants with capacity of 130 megawatts will start commercial operations while the other two plants will begin in 2018 – 2019. The company will recognize revenue for a total of 540 megawatts in 2019, up 54% from end of 2016 with electricity generation of 350 megawatts.
In addition, WHAUP also invested in waste-to-energy project under Chonburi Clean Energy (CCE), tieing up with Glow Energy Plc. and Suez. Recently, Chonburi Clean Energy signed the agreement with Provincial Electricity Authority in the 8.63-megawatt waste-to-energy project, which is expected to start operation in the fourth quarter of 2019. The project has 6.90-megawatt contract in Hemaraj Chonburi Industrial Estate and is now under Environment Impact Assessment (EIA) process, expected to be completed and approved by the relevant authorities in October 2017. After that, construction should take around 24-26 months to complete before commercial operations in December 2019. The investment for this project is expected to worth 1,500 million Baht.
Renewable power is another business WHAUP is also working on, which is solar power on rooftop of WHA Group's warehouses covering 2 million square-meter areas. For Utilities business, WHAUP produces and sells up to around 95 million cubic meters of process water and clarified water as well as waste water treatment. Demand for process water is also expected to increase after respective commercial operations of those six SPP plants.
"From all aforementioned business plan, we trust that WHAUP's revenue from utilities business and share of profit from power business should increase, compared to 2016 where we earned 1,600 million Baht revenue from utilities business and 985 million Baht from share of profit and dividend. This excludes the customer base expansion contributed by the government's Eastern Economic Corridor Policy which will benefit WHAUP even further." Mr. Wisate added
Ms. Veena Lertnimitr, Executive Vice President, Primary Distribution, Siam Commercial Bank, as a financial advisor of WHAUP and representing Siam Commercial Securities Co., Ltd., as a lead underwriter, said "WHAUP's business stands out for its fully integrated utilities and power excellence. Besides, it is the operator of the government's target industrial promotion area in the east of Thailand."
WHAUP's management team's expertise and experience in utilities and power business will contribute to business expansion in Thailand and overseas, especially CLMV countries where demand for utilities and power have increased. In 2016, WHAUP's revenue from sales and services accounts for 1,600 million Baht with gross profit of 539 million Baht and share of profit and dividend from power business of 985 million Baht.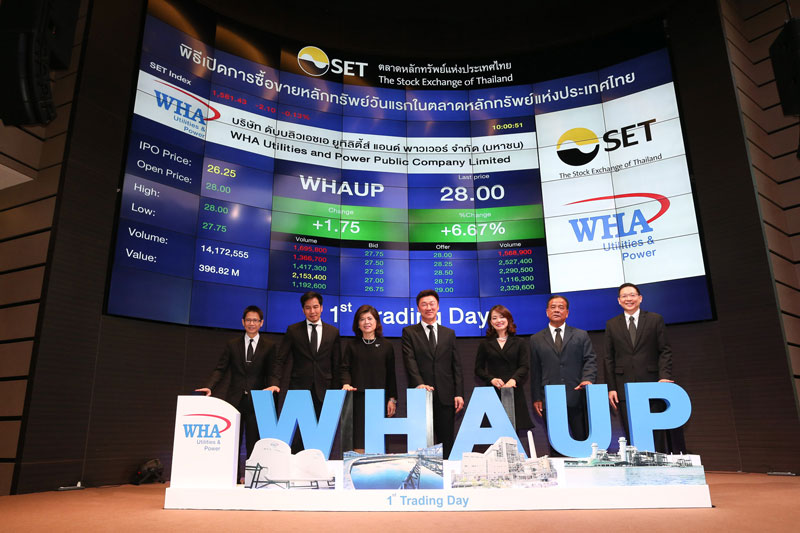 ---