Action Plan and Business Goals on the Next 5 Years of WHA Group



---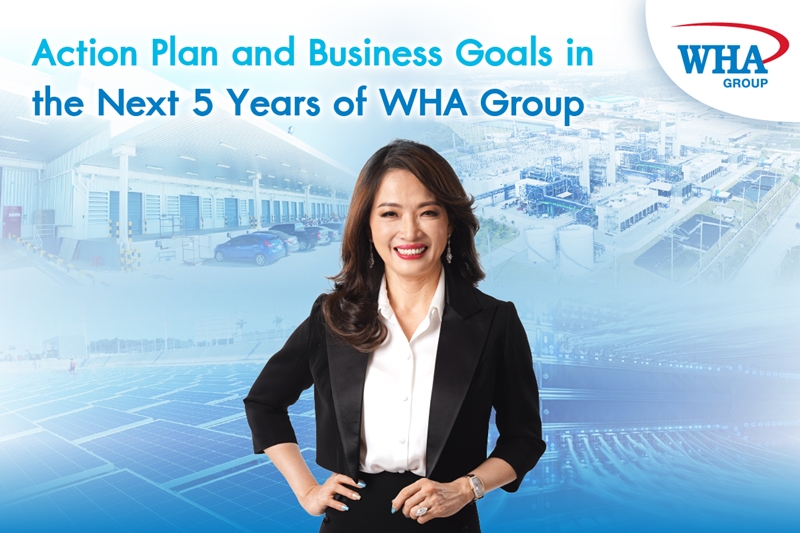 From the success in 2021, coupled with the forecast of total income and profit sharing from the operations, Ms. Jareeporn Jarukornsakul, Chairman of the Board of Directors and Chief Executive Officer of WHA Corporation Public Company Limited, revealed that, in 2022, WHA Group wishes to develop and create new growths in the next five years by covering all four business groups that can support the demand and the growth of various industries in the future.
"We look at the year 2022 with confidence and positive side because we believe that various restrictions due to the epidemic situation of COVID-19 will begin to unravel, and the economy will begin to recover rapidly. Over the next five years, we will continue implementing the process of digitizing all our hubs of businesses by using intelligent technology and innovation to enhance our operations more efficiently," she said.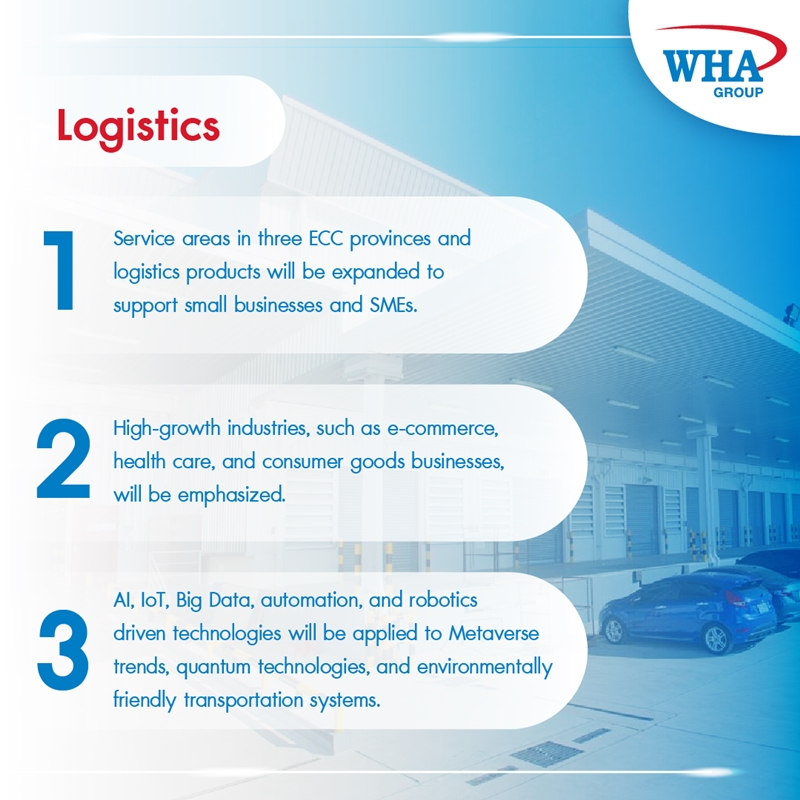 Logistics
Service areas in three ECC provinces and logistics products will be expanded to support small businesses and SMEs.
High-growth industries, such as e-commerce, health care, and consumer goods businesses, will be emphasized.
AI, IoT, Big Data, automation, and robotics-driven technologies will be applied to Metaverse trends, quantum technologies, and environmentally friendly transportation systems.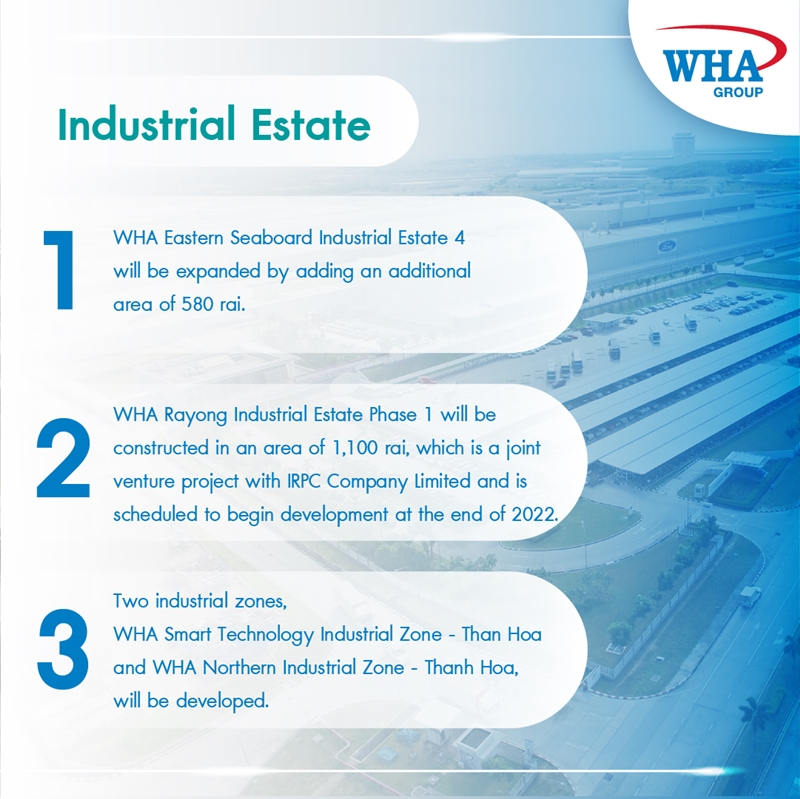 Industrial Estate
WHA Eastern Seaboard Industrial Estate 4 will be expanded by with an additional area of 580 rai.
WHA Industrial Estate Rayong Phase 1 will be constructed in an area of 1,100 rai, which is a joint venture project with IRPC Company Limited and is scheduled to begin development at the end of 2022.
Two industrial zones in Vietnam, WHA Smart Technology Industrial Zone - Than Hoa and WHA Northern Industrial Zone - Thanh Hoa, will be developed.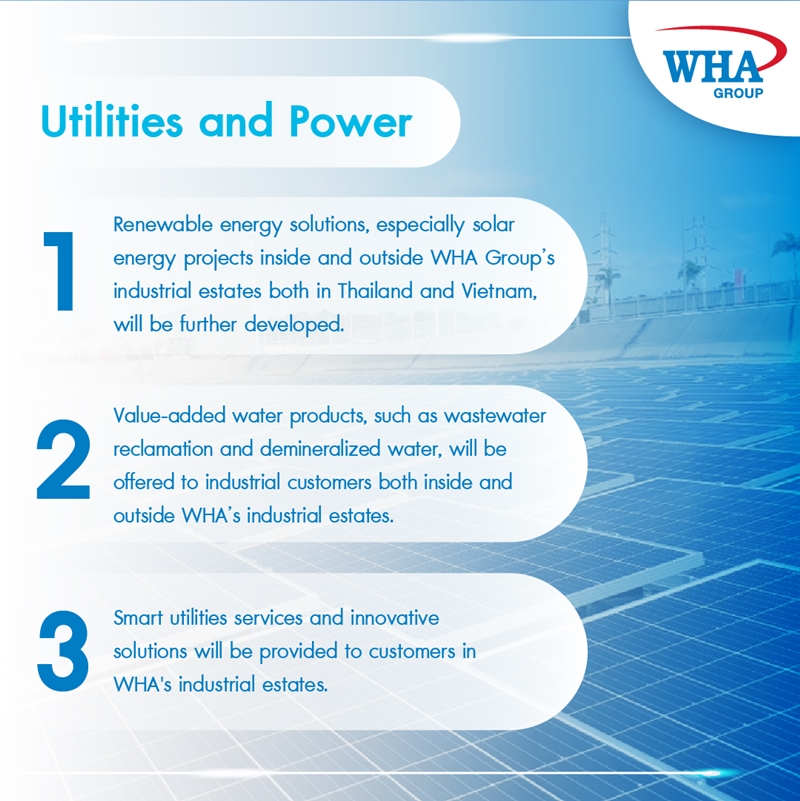 Utilities and Power
Renewable energy solutions, especially solar energy projects inside and outside WHA Group's industrial estates both in Thailand and Vietnam, will be further developed.
Value-added water products, such as wastewater reclamation and demineralized water, will be offered to industrial customers both inside and outside WHA's industrial estates.
Smart utilities services and innovative solutions will be provided to customers in WHA's industrial estates.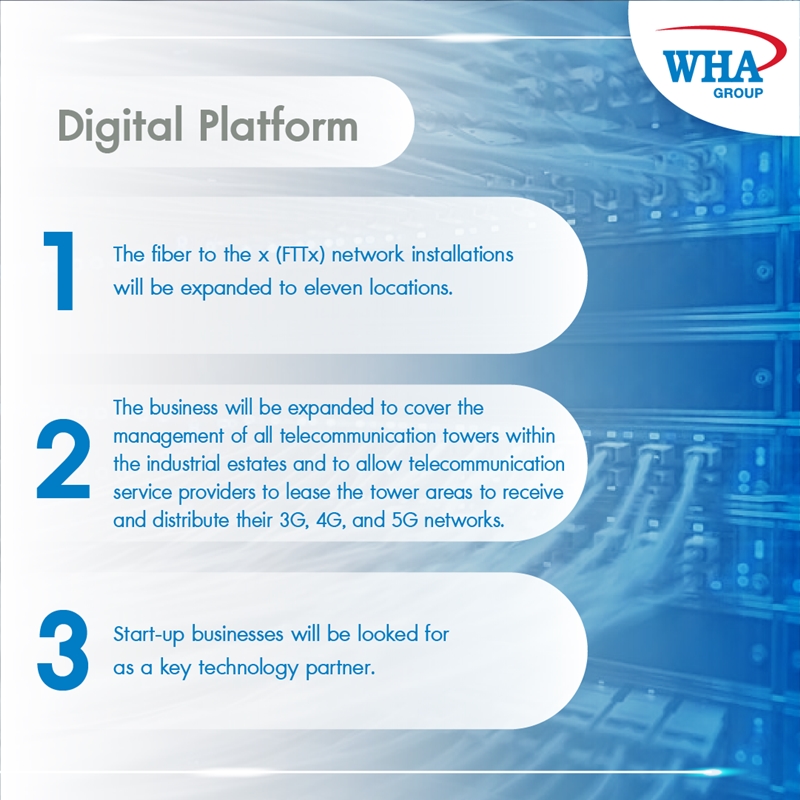 Digital Platform
FTTx installations will be expanded to eleven locations.
The business will be expanded to cover the management of all telecommunication towers within the industrial estates and to allow telecommunication service providers to lease the tower areas to receive and distribute their 3G, 4G, and 5G networks.
Start-up businesses will be looked for as a key technology partner.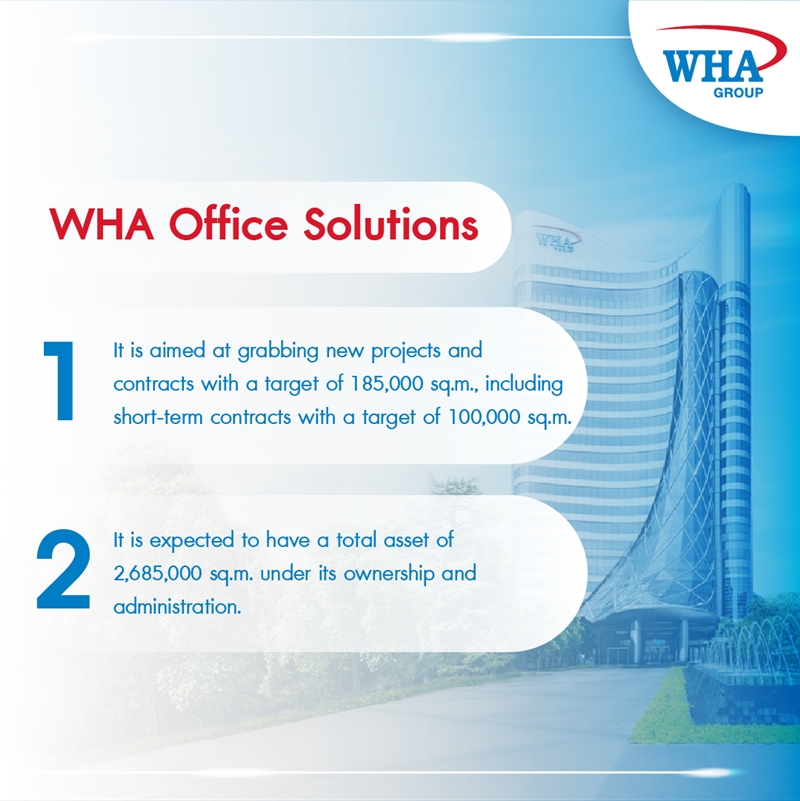 WHA Office Solutions
It is aimed at grabbing new projects and contracts with a target of 185,000 sq.m., including short-term contracts with a target of 100,000 sq.m.
It is expected to have a total asset of 2,685,000 sq.m. under its ownership and administration.
Credit: mreport.co.th
#WHA #WHAGROUP #WHALOGISTICS #EEC #BUILTTOSUITFACTORY #ECOMMERCEPARK #RBF #READYBUILTFACTORY #FACTORYFORRENT #BANGNATRAD #CHACHOENGSAO #CHONBURI #RAYONG #VIETNAM #WHADIGITAL #DIGITALPLATFORM
#ดับบลิวเอชเอ #ดับบลิวเอชเอกรุ๊ป #โลจิสติกส์ #บางนาตราด #ฉะเชิงเทรา #อีคอมเมิร์ซพาร์ค #โรงงานสำเร็จรูปให้เช่า #โรงงานให้เช่า #อีอีซี #ระยอง #ชลบุรี #เวียดนาม
=============================
Website: www.wha-group.com
Facebook : www.facebook.com/whagroup​
Twitter : www.twitter.com/GroupWha
LinkedIn: https://lnkd.in/ghbKpFN
Youtube: https://www.youtube.com/TheWHAGroup
---