Utilities and Water Solutions
WHA Utilities and Power Public Company Limited engages in the utility business mainly by serving manufactures and operators in industrial estates and industrial lands. The Company's products and services are raw water procurement and distribution, industrial water production and distribution, and wastewater treatment services.
WHA Utilities and Power Public Company Limited has continuously expanded its industrial water production capacity and improved its wastewater treatment capability to serve its growing number of industrial customers in WHA's industrial estates. The Company is committed to continue developing its capacity in parallel with WHA Industrial Development's investments, both locally and internationally.
The Company and its subsidiary have experience and expertise in managing integrated utilities services by procuring and supplying raw water; producing and distributing industrial water as well as providing wastewater management services to customers in 11 industrial estates and industrial industrial land in Chonburi, Rayong, Saraburi, and Vietnam, developed and managed by WHA Industrial Development PLC. as well as providing the same products to industrial customers located beyond WHA Industrial Development PLC's management. Our coverage areas are as follows:
WHA Chonburi Industrial Estate 1 (WHA CIE 1)
WHA Chonburi Industrial Estate 2 (WHA CIE 2)
WHA Eastern Industrial Estate (Map Ta Phut) (WHA EIE)
Eastern Seaboard Industrial Estate (Rayong) (ESIE)
WHA Eastern Seaboard Industrial Estate 1 (WHA ESIE 1)
WHA Eastern Seaboard Industrial Estate 2 (WHA ESIE 2)
WHA Rayong Industrial Land (WHA RIL)
WHA Saraburi Industrial Land (WHA SIL)
Eastern Seaboard Industrial Estate 3 (Rayong) (WHA ESIE 3)
Eastern Seaboard Industrial Estate 4 (Rayong) (WHA ESIE 4)
Nghe An (Vietnam)
Eastern Economic Corridor of Innovation: EECi
With our continuous expansion of coverage areas and continuous growth in WHA's Industrial Estates, our expertise in water management system, including procurement, production and distribution, the Company's raw water and industrial water management and distribution volume has continuously increased and has reached 76 million cubic meters, whereas the wastewater treatment volume and management volume has reached 36 million cubic meters in 2021.
Under WHA Industrial Development business, WHA has developed 11 Industrial Estates in operations and have another 4 Industrial Estates under the development in this couple years time.
The company has our team experience and expertise in managing an integrated water and wastewater treatment system, are ranging from procurement, transportation, production, management and distribution.
Why WHAUP Utilities Solutions?

High Quality at Lower Price

Concentrate on Core Business

Environmental Impact Mitigation

Secure for Future Resources
Water and Wastewater Treatment Solutions

Total capacity of industrial water

over 366,776*
cubic meters per day
* Including Demineralized Water production plant and Wastewater Reclamation plant with maximum total capacity of 12,000 and 30,200 cubic meters per day

Total capacity of wastewater treatment

over 132,456
cubic meters per day

Environment award-winning utility business with solid historical growth and reliability
At a capacity of 366,776 m3 per day, water supply at WHA Industrial Estates is provided through WHAUP.
Process Water
Industrial water that has undergone the processes of sedimentation, filtration and chlorination for disinfection
Final product used in production process in general industrial plants
Core customers include automotive, electronics, food and consumer industries
Clarified Water
Produced via similar processes, as for the process water, but with minimum chlorine residual
Serves customer demand in heavy industries such as petrochemical industrial plants and power plants
Reverse Osmosis (RO) and Demineralization Water
View Virtual Tour
Produced by membranes and ion-exchange media
Suitable for manufacturers that require very purified water for their production processes
On Premises Pre-treatment and Wastewater Reclamation
WHAUP provides the solution to clients by offering wastewater pre-treatment service or wastewater reclamation on customer premises. Service types range from build-operate-transfer (BOT), operation and maintenance (O&M), and engineer-procure-construct (EPC) to match each customers' needs.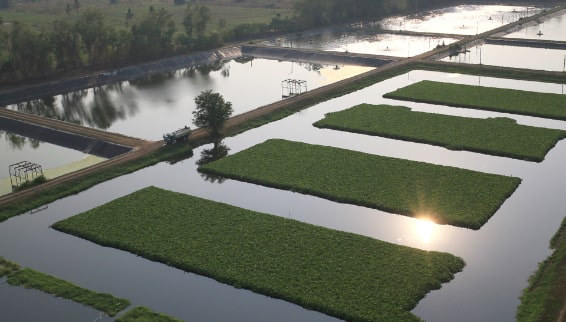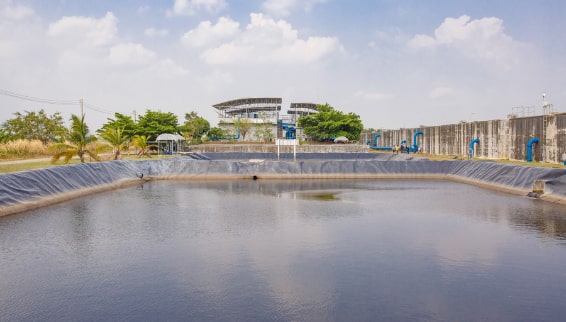 On Premises Pre-treatment and Wastewater Reclamation
Total wastewater treatment capacity combined is approximately 120,000 m3 per day. WHAUP provides wastewater treatment services to customers in WHA Industrial Estates. We ensure that used water is collected and treated in accordance with applicable standards imposed by the Ministry of Industry before being discharged into the central wastewater treatment in each industrial estate. Treated wastewater can then be discharged into natural sources of or recycled or recycled into the production process.
Central wastewater treatment system under WHAUP's operation include activated sludge, aerated lagoons, constructed wetlands, hybrid rotating biological contactor (RBC) and inorganics wastewater treatment system.