WHA Solar : Renewable and Green Energy Power Generation in Thailand
What is solar energy? How does it work? How is it made?
Solar energy is created via a photovoltaic system, where panels generate electricity through exposure to sunlight. This electricity is converted from DC (direct current) to AC (alternating current) power and supplied back to the power grid, or stored for later use.
Thailand's policy on solar energy
Solar energy in Thailand has the potential for significant growth. It is a key renewable green energy for development, supported by Thai government policies. The solar energy market has been opening up for private investment, operations and innovation, including recent solar rooftop regulations. This will promote private electricity generation and trading, especially in industrial and commercial buildings.
Solar energy is a key feature in Thailand's Alternative Energy Development Plan 2018–2037, which proposes a target of 34% renewable or green energy of total energy consumption by 2036.
The use of solar energy in Thailand's industrial and service sectors
Solar rooftop installations are part of renewable energy solutions that can lower operating costs while at the same time contribute towards a greener environment.
By installing solar rooftop panels on industrial and commercial buildings, businesses can take advantage of larger surface areas to generate electricity from sunlight, supplying excess energy back to the power grid. Other buildings such as schools and hospitals, and those in the retail and service sectors with large roof space can also install solar rooftop panels for energy efficiency.
WHA Solar Energy
WHA Solar Rooftop Installation - Saving with Renewable and Clean Energy
WHA Solar has installed and operated solar power systems on rooftops of WHA Group's warehouses and factories and has been gearing forward on this environmentally friendly platform to all industrial customers. Today we've installed and generated green energy for over 80+ companies in various locations including Rayong, Chonburi, Samut Prakarn, Samut Sakhon, Pathum Thani, Nonthaburi, Chachoengsao, Nakhon Nayok, Ratchaburi, Prachinburi, Udonthani, Petchaburi, Ayutthaya, Saraburi, Suratthani, Chumphon, and Songkhla. With our extensive experience, WHA Solar offers an all-in service package, with ZERO investment and maintenance cost, allowing customers to enjoy lower electricity costs while also helping to reduce carbon dioxide levels in the atmosphere.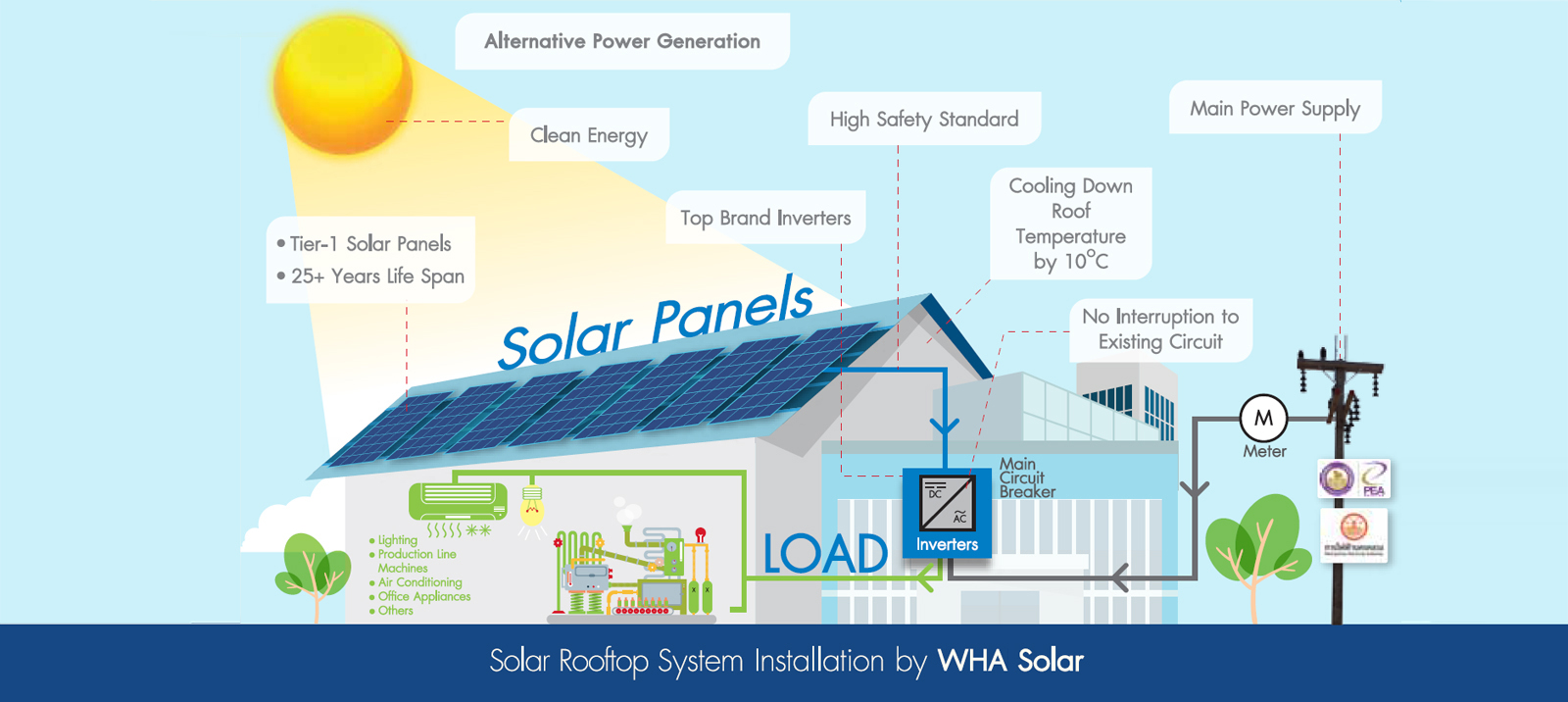 SOLAR INQUIRY FORM
Contact us today for free consultation on different types of solar installations that best suits your operation.
CONTACT US
SOLAR SAVING CALCULATION
Find out how much you can save per month with WHA Solar. The saving estimation is based on your roof space, your current electricity bill and your operating hours.
EXPLORE MORE