WHA Group's CSR Program Continues to Help Foster Community Development : Community Projects and Activities



---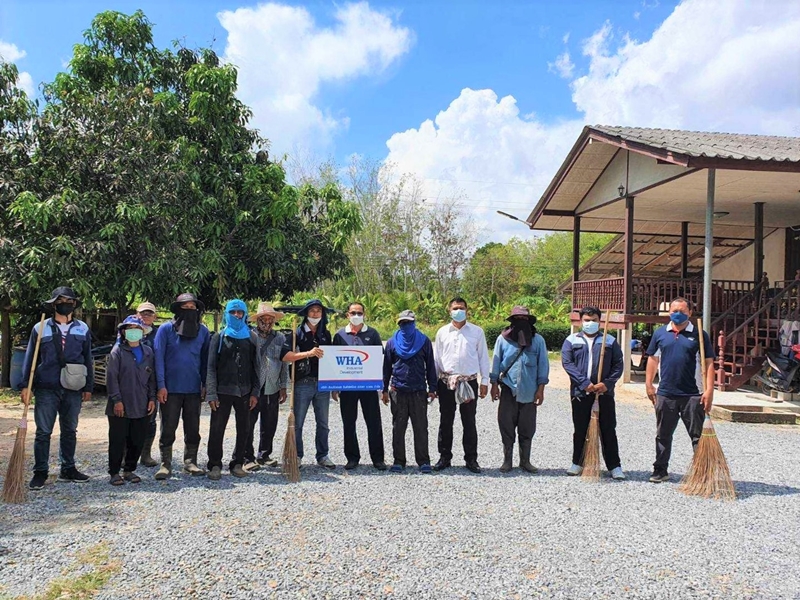 A healthy and happy community is one that takes care of its members well-being and quality of life. The companies under WHA Group are continuously looking for ways to show their support by listening to the people's needs and extending their support to make the community stronger.
An air conditioning unit was donated to the Ban Pak Phraek School Child Center in Pluak Daeng, Rayong by WHAID, in cooperation with WHAUP, while water storage tanks were donated to the Wat Pak Pa in Ban Khai, Rayong, so monks and temple visitors can enjoy a clean water supply. Relief equipment was delivered by WHA Industrial Estate Rayong to the Rayong Province Veterans Association to promote surveillance and disaster prevention in case of unexpected events or calamities in the community. Similarly, first aid equipment was delivered to the Ban Bueng Association of Chonburi by WHAUP and WHAID to be used by rescue teams in case of emergency. An electronic signage system was donated to the Chomphon Chao Phraya Municipality, Pluak Daeng in Rayong by WHAID and WHAUP, so that the community can see important information and environmental quality updates in real time.
WHA organized a clean up campaign at the Baan Eua Arthorn Housing Project in Pluak Daeng, with fire trucks spraying the streets with water to reduce the dust on the roads for the health of the people. WHA employees joined the activity to sweep the streets and pick up trash for the wellness of the residents. WHAID and WHAUP held a merit-making ceremony and distributed New Year gifts to senior members of the Khao Khan Song Club in Si Racha, Chonburi. In addition, in collaboration with the Pluak Daeng Administrative Organization, they also organized a discussion on health issues for seniors and held recreational activities to keep them active physically and mentally. They also held a joint New Year event at the Chomphon Chao Phraya Municipality in Pluak Daeng, Rayong to express thanks to local officials and their staff.
WHAID participated in a monthly volunteer project for the Village Development of Ban Chak Mahad in Ban Khai, Rayong to strengthen the bond with local residents. In addition, it also participated in a rice stubble plowing activity organized by the Bangbut Administrative Office, Ban Khai, Rayong. The aim of this event is to create a connection with farmers and raise awareness on the effects of burning rice stubble which contributes to air pollution.
By continuing its CSR initiatives and projects, WHA Group reinforces its commitment to empower communities, improve their living environment, and create shared prosperity in an open and sustainable manner. The company gives back to society through activities for the people's health, welfare, education and safety and programs that will foster social, environmental and economic development.
---