Solar Energy and Solar Rooftop
WHAUP Solar Rooftop: Renewable and Green Energy Power Generation in Thailand
What is solar energy? How does it work? How is it made?
Solar energy is created via a photovoltaic system, where panels generate electricity through exposure to sunlight. This electricity is converted from DC (direct current) to AC (alternating current) power and supplied back to the power grid, or stored for later use.
Thailand's policy on solar energy
Solar energy in Thailand has the potential for significant growth. It is a key renewable green energy for development, supported by Thai government policies. The solar energy market has been opening up for private investment, operations and innovation, including recent solar rooftop regulations. This will promote private electricity generation and trading, especially in industrial and commercial buildings.
Solar energy is a key feature in Thailand's Alternative Energy Development Plan 2018–2037, which proposes a target of 34% renewable or green energy of total energy consumption by 2036.
The use of solar energy in Thailand's industrial and service sectors
Solar rooftop installations are part of renewable energy solutions that can lower operating costs while at the same time contribute towards a greener environment.
By installing solar rooftop panels on industrial and commercial buildings, businesses can take advantage of larger surface areas to generate electricity from sunlight, supplying excess energy back to the power grid. Other buildings such as schools and hospitals, and those in the retail and service sectors with large roof space can also install solar rooftop panels for energy efficiency.
WHAUP Solar Rooftop Installation - Saving with Renewable and Clean Energy
WHAUP has installed and operated solar power systems on rooftops of WHA Group's warehouses and factories, and has been gearing forward on this environmentally friendly platform to all industrial customers. With our extensive experience, WHAUP offers an all-in service package, with ZERO investment and maintenance cost, allowing customers to enjoy lower electricity costs while also helping to reduce carbon dioxide levels in the atmosphere.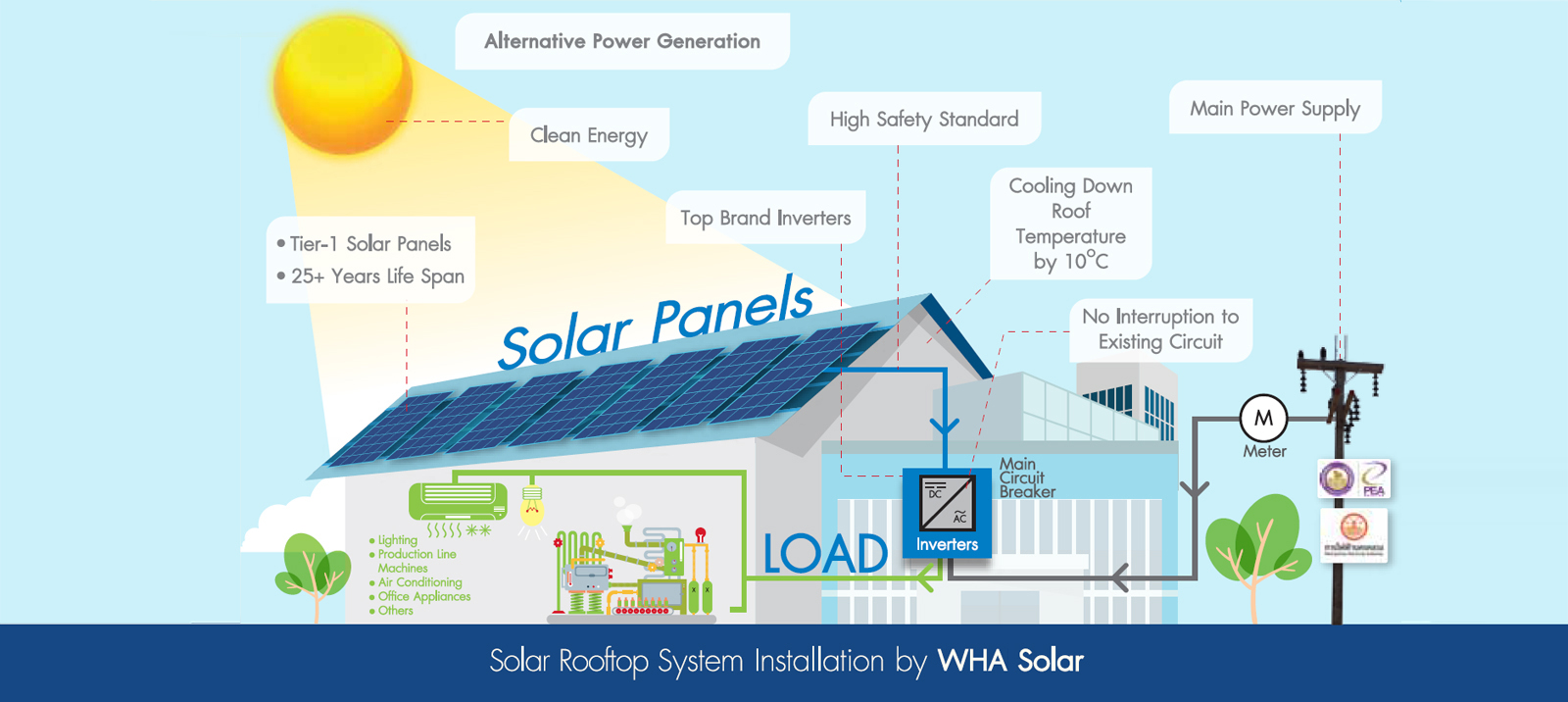 What is the WHAUP solar rooftop package?
WHAUP offers an all-in solar rooftop service package for customers in Thailand including design, permitting, installation, and long-term operation and maintenance at no upfront cost to customers. With zero investment and zero maintenance costs, the WHAUP solar rooftop package helps businesses be part of the green energy cycle under a long-term power-purchase agreement. It's cost-effective and has less impact on the environment.
Comprehensive Solar Rooftop Package
Why choose WHAUP Solar?
WHAUP Solar fully invests and operates the solar rooftop system to deliver green energy to you under a long-term power purchase agreement
Zero
Investment
Save on Your Electricity Bill
Immediate savings on your electricity bill within the first month of connection
Energy Saving
WHAUP Solar Rooftop team takes complete care of the solar rooftop system operation to make sure that electricity is smoothly delivered to you at lower cost for 20 years
20 Years
Free Services*
*Conditions as mutually agreed under power purchase agreement
Start Saving with WHAUP Solar Rooftop
WHAUP installs and operates solar power systems across industrial estates and logistics parks in Thailand. We have Tier 1 solar panels on rooftops with a 25-year life span, combined with world-class safety standards and quality solar inverters. Solar power will be blended smoothly with the existing power supply source, posing no interruption to a factory's pre-solar operation or electrical system.
For more information, download our brochure. Contact WHAUP today for a free consultation and site evaluation.
Steps to Begin Saving with WHAUP Solar Rooftop
WHAUP Proven Track Record
In 2021, WHAUP and Prinx Chengshan jointly signed a Solar private purchase agreement. The project becomes the largest solar rooftop project in ASEAN with an electricity-generating capacity of 19.44 MW and helps offset green house gas (CO2) emissions by 366,000 tons throughout the project's life.