WHA KW The Headquarters are Located in the Middle of the Sukhumvit - Asoke



---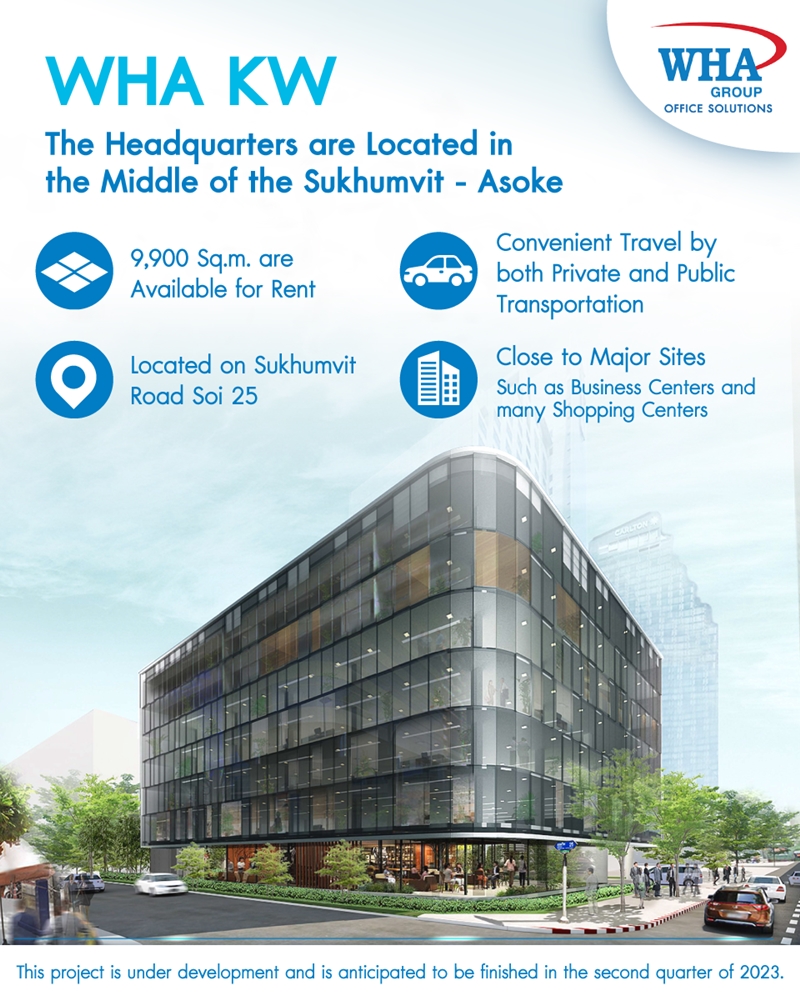 WHA KW, Head Office in the heart of Sukhumvit – Asoke
WHA KW, First-class office building, situated in the heart of Sukhumvit-Asoke area surrounded by business districts. It's convenient for travel.
It maintains a calm and private work environment while being in the center of the city. The following facilitation factors are covered by this project, which is now under development and is anticipated to be finished in the second quarter of 2023:
🏢 9,900 square meters are available for rent.
🏢 Located on Sukhumvit Road Soi 25
🏢 Convenient travel by both private and public transportation
🏢 Close to major sites including
business centers and many shopping centers
The aforementioned elements are intended to satisfy each business's requirements for operational comfort and to serve as one of the reasons that motivates personnel to perform their jobs as effectively as possible.
Click here for further information.
For any inquiries, please feel free to contact us via:
+66 (0) 2 719 9555 or Line: https://lin.ee/K83fH9N
Website: www.wha-group.com
#WHA #WHAGROUP #WHAOFFICESOLUTIONS #WHAKW #OfficeForRent #ออฟฟิศให้เช่า
==========================
Line ID: https://lin.ee/K83fH9N
Website: www.wha-group.com
Facebook: www.facebook.com/whagroup
Twitter: www.twitter.com/GroupWha
LinkedIn: www.linkedin.com/company/wha-corporation
Youtube: https://www.youtube.com/TheWHAGroup
---