"WHAUP" Shows Q1/2023 Strong Performance As Expected. Normalized Profit Grows by 230%, Thanks to the Reviving Power Business



---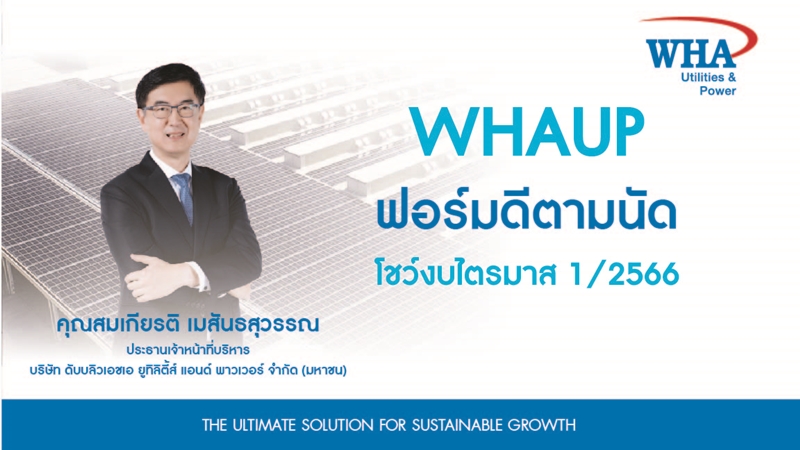 Bangkok – WHA Utilities and Power PCL ("WHAUP") announced its Q1/2023 earnings, with total revenue and normalized share of profits of THB 813 million and normalized net profits of THB 229 million. Increase in FT which reflecting the fuel costs play the main role in positive result. Mr. Somkiat Masunthasuwun, WHAUP CEO, expressed the readiness to further expand company's renewable energy business, both domestically and internationally.
WHA Utilities and Power PLC (WHAUP) informed the Stock Exchange of Thailand about its Q1/2023 earnings, with the company recording total revenue and normalized share of profits of THB 813 million, and normalized net profit of THB 229 million, a YoY increase of 34% and 230%, respectively. This is due primarily to the recognition of the higher share of profits from its equity investments in Small Power Producers (SPPs). The increase in FT has reflected the cost of natural gas and the accrued costs of the Electricity Generating Authority of Thailand (EGAT), allowing the recovery of profit margins from power sold to industrial customers. Meanwhile, the company's net profit, including foreign exchange effects, stood at THB 257 million, an increase of 229% YoY.
Mr. Somkiat Masunthasuwun, Chief Executive Officer of WHA Utilities and Power PLC (WHAUP), revealed the performance of the Utilities (water) business in Q1/2023. The total volume of water sales and management, both domestic and overseas, reached 35 million cubic meters, a slight decrease of 3% from 2022. The overall volume of domestic water sales and management decreased by 6% from the previous year as some major customers underwent maintenance shutdowns, leading to lower demand from the industrial sector. However, the demand for value-added water products such as demineralized water and premium clarified water, continued to improve.
In Vietnam, the water business during Q1/2023 showed signs of steady growth, with the company's total water sales volume, according to its shareholding equity, reaching 7 million cubic meters, representing a growth of 15% YoY. This growth was mainly driven by the increase in water demand from the Duong River Project, which grew in accordance with Vietnam's economic recovery, and the expansion of the company's customer base and water service areas. Furthermore, the company has also benefited from the increase in water prices, which received the Vietnamese government's approval in January of this year.
For the Power Business, WHAUP recorded a share of normalized profits of THB 190 million in Q1/2023 from its power business, a significant increase of 177% YoY. This increase was primarily due to the recovery of the share of profit from SPPs, as the Ft was increased to 1.549 THB/unit to reflect the cost of natural gas and EGAT's accrued cost. As a result, there was a higher gross profit margin from the sale of power to industrial customers.
For solar business In Q1/2023, WHAUP recognized total revenue of THB 111 million, an 113% rise from the previous year, which was due to the increasing capacity of solar power from commercial operations (CoD). At the end of Q1/2023, the company had a total solar power capacity under operation of 94 MW. Furthermore, in Q1/2023, the company signed additional Private Power Purchase Agreements (PPAs) for solar power of 10 contracts, representing a total capacity of 16 MW. As a result, at the end of Q1/2023, WHAUP's solar power private PPA signed capacity stood at 149 MW and total contracted capacity from all types of power plants stood at 699 equity MW.
Mr. Somkiat stated that WHAUP is committed to expanding its investment in new projects both in Thailand and abroad, with a focus on applying modern technology and innovation in business operations, especially in expanding its renewable energy portfolio, including solar and industrial waste to energy, and other types. WHAUP has set a target to have a total contracted capacity of 300 MW of renewable energy by the end of the year. Recently, WHAUP was selected by the Energy Regulatory Commission (ERC) to be the developer of Phase 1 of renewable energy with a Feed-in Tariff system for five solar farm projects, with a total installed capacity of 125.4 MW, according to the shareholding equity. It is expected to sign the PPA contract within this year, with commercial operation scheduled for 2029-2030.
"WHAUP is committed to investing in various formats of utilities and power, both locally and abroad, through the use of innovative solutions to develop products and services that cater to the needs of all target groups. Together with all stakeholders, we strive to create sustainable growth for our businesses. The company also places emphasis on environmental sustainability, social impact, and good governance."
In addition, the Annual General Meeting of Shareholders on 20 April 2023, approved a total dividend payment of 0.1600 baht per share for the 2022 operating performance. This includes an interim dividend of 0.0600 baht per share, already paid to shareholders on 7 December 2022, and an additional dividend of 0.1000 baht per share. The payment date is scheduled for 17 May 2023, reflecting the company's strong financial position and commitment to regularly paying dividends to shareholders.
---